Dharma talk: Women in Zen Buddhism

With Zen Master Dae Kwan, Dharma Master Chuan Wen and Dharma Master Myong Hae

Zen Master Dae Kwan from Hong Kong, Dharma Master Chuan Wen from Malaysia, Dharma Master Myong Hae from Lithuania and Hong Kong. 3 Women from 3 different paths and nations chose to live Zen Buddhism day in and day out as Zen Nuns and are making significant differences in their countries. They come from Hong Kong, Lithuania and Malaysia and have unique perspectives to share about their lives as Buddhist Zen Nuns. It will be a lively discussion with plenty of time for questions and answers.

Date & Time:
15. June 2018 at 18:30
Place:
Meditationszentrum "der mittlere weg"
Biberstraße 9/2, 1010 Wien

Find your way to the talk
More Information on Zen Master Dae Kwan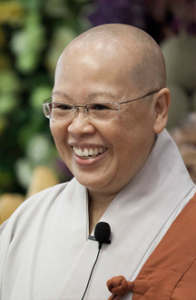 Zen Master Dae Kwan (Hyang Um) a Zen nun, studied sutras at the Kwok Kwong Buddhist College in Hong Kong in the 1970's and ordained at Ajahn Chaa's International Forest Monastery in Thailand in 1981. She practiced in Chiangmai for a decade including two years of intensive solo retreat in Tu Boo Cave. As a Theravada nun she went to Korea in 1992 for the first time and met Zen Master Seung Sahn during a three-month winter kyol che. Thereafter she became his student and returned to Hong Kong to help establish the Hong Kong Zen Center (now Su Bong Zen Monastery). In 1995, she received inka from Zen Master Seung Sahn and in April 2001, she received Dharma transmission from him and was named Zen Master Dae Kwan. Zen Master Dae Kwan is the abbot and guiding teacher of Hong Kong Su Bong Zen Monastery. She has translated several of Zen Master Seung Sahn's books into Chinese including "Dropping Ashes on the Buddha", "Only Don't Know" and "The Whole World is a Single Flower"
More Information on Dharma Master Chuan Wen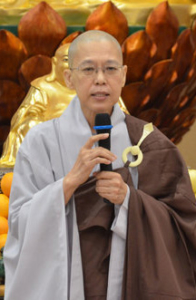 Venerable Chuan Wen Sunim was born in Malaysia in 1964. Her family is Chinese. After schooling and work experience as a teacher, she chose to ordain as a Buddhist nun. Venerable Chuan Wen was ordained a nun in 1988 by Reverend Kong Euee of Beow Hiang Lin temple. She trained at temples in Malaysia and Taiwan. She returned to Malaysia when her teacher gave her the job at the young age of 30 of rebuilding an old Buddhist temple in the heart of Kuala Lumpur, the capital of Malaysia. She is currently the abbot of Hoeh Beng Buddhist Temple. She was the Vice president of the Young Buddhist Association of Malaysia and the chairperson of the Dhamma Propagation Committee. She is currently the Religious Advisor of the Young Buddhist Association of Malaysia, an organization of all Buddhists in Malaysia under 40 years old. In 2003, Venerable Chuan Wen inaugurated the "Dhamma Practitioner Camp", a program to introduce people to Buddhist practice through games and group activities giving the experience of don't know mind. These programs are held each year. Venerable Chuan Wen first heard of Zen Master Seung Sahn and his teaching in 1995 and invited Dae Seon Sa Nim and his disciples to teach in Hoeh Beng Temple. Since that time Dae Bong Sunim has regularly visited to lead 7-day retreats. Venerable Chuan Wen did her first Kong-An Zen retreat during the winter of 1997 at Hwa Gye Sa. She then participated in most Summer Kyol Ches at Musang Sa since 2010. Seung San Zen Master's teachings have had great influence on her, in particular: (1) the teaching that keeping correct situation, relationship and function is the great Bodhisattva way; (2) the experience of "don't know mind" during Kong-An interviews and everyday life; and (3) the simple and direct teachings that point straight to human mind.
More Information on Dharma Master Myong Hae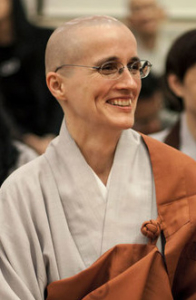 Myong Hae Sunim is the first Buddhist nun from Lithuania, where she heard of Zen Master Seung Sahn's teaching for the first time in 1991. Two years later she sat her first retreat with Zen Master Su Bong in Lithuania. Myong Hae sunim moved to Hwa Gye Sah, South Korea, in 1996 to train as a haengjanim, and subsequently to Hong Kong in 1997 after she became a nun to train with Zen Master Dae Kwan. Myong Hae sunim has been in Hong Kong since 1997 and has served as Head Nun and Vice Abbot of Su Bong Zen Monastery. She has sat many retreats across Asia, Europe, and the United States. Myong Hae sunim received inka "permission to teach" and became a Ji Do Poep Sa Nim in 2016. She is the second guiding teacher at the Su Bong Zen Monastery.
Costs
As a non-profit organization we would like to ask you for a donation of € 7,- to cover parts of the costs. Any support will be highly appreciated.
Contact
Tel. 0680 / 55 396 11
ta.ne1695297747zmuna1695297747wk@of1695297747ni1695297747